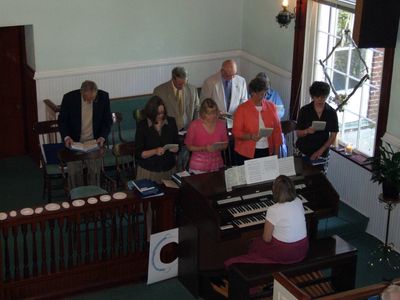 NOTES FROM KELLEY
I need more hymns, inspirational, Praise and other requests from you! Please keep them coming! Also if you're interested in doing a solo, duet, trio or more with me accompanying or with a track, let me know.
Our first choir practice is Thursday September 12 at 5:30 p.m. We'll work on Revival and Sunday pieces. We will meet at least once a month and probably more through December.
The Christmas program will be Sunday December 15th 11:00 a.m. during worship time. In order to make this a success we need congregants and friends of all ages for singing and small parts in the presentation. Let me know if you're interested! Come join the choir for revival and upcoming season of Thanks, Advent and Christmas!
We will be singing for the revival at CPC on Tuesday October 1 at 7pm. A bit more than a year later,
I am pleased with all the church family accomplished from moving the piano, organ, repairs, tunings, new sound system and THE BELL!
Special thanks to Reese who's worked so hard getting comfortable with the sound and video system and producing such wonderful tones!
Also thanks to Judy and Gage for stepping up to help.
Roger, thanks for being the "ring" leader!
Display their FAQs